Bunny/Riise Fanmix!
November 5th, 2006 (02:44 am)
How I feel: busy
What I'm hearing: If I Where You - Hoobastank
Okay, embarrassingly enough I finished this months ago, I've just been to busy to actually to post it! *shakes her head*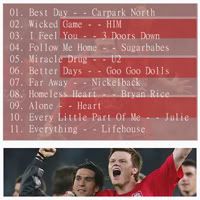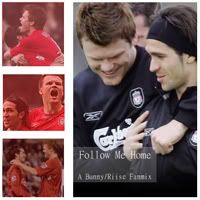 Well, here it is, and with it, my deepest apologies for it's utter crappiness...

http://www.sendspace.com/file/m77yqu

1. Best Day – Carpark North

Taking my mind to another level of expectation
I saw you there
Could you ever be more beautiful
I've tasted the apple for the first time
and it tasted good, real good
I always saw you as a work of art
a change of heart
but I never ever saw you as my start

2. Wicked Game – HIM

The world was on fire
No one could save me but you
It's strange what desire
will make foolish people do
I'd never dreamed that
I'd need somebody like you
And I'd never dreamed that
I'd need somebody like you

3. I Feel You – 3 Doors Down

Those are little things you say
When words mean so much
You never back down
When they all shy away
You always listen to me

What do I get
To get me through these sleepless nights?
And what do I have to hold
When no one's there to hold me tight?
And what do I see
The only thing that gets me through this?
That's what I feel
And I feel you

4. Follow Me Home - Sugababes

Sometimes life it drags you down
And plays you like a fool
Makes you feel so empty sometimes
It can be so cruel, ooh yeah

So follow me home
You'll never be lost
Wherever the storm
Whatever the cause
I won't walk away
I'll stand by your side
I'm here for you
The rest of our lives

5. Miracle Drug – U2

I am you and you are mine
Love makes nonsense of space
And time... will disappear
Love and logic keep us clear
Reason is on our side, love...

The songs are in your eyes
I see them when you smile
I've had enough of romantic love
I'd give it up, yeah, I'd give it up
For a miracle, a miracle drug, a miracle drug

God I need your help tonight

6. Better Days – Goo Goo Dolls

I wish everyone was loved tonight
And somehow stop this endless fight
Just the chance that maybe we'll find better days

So take these words and sing out loud
Cause everyone is forgiven now
Cause tonight's the night the world begins again
Cause tonight's the night the world begins again

7. Far Away - Nickelback

That I love you
I have loved you all along
And I miss you
Been far away for far too long
I keep dreaming you'll be with me
and you'll never go
Stop breathing if
I don't see you anymore

8. Homeless Heart – Bryan Rice

Broken, shattered like a mirror in a million pieces,
Sooner or later you've got to find, something, someone,
To find you and save you,

When you're lost in the dark,
When you're out in the cold,
When you're looking for something that resembles your soul,
When the wind blows your house of cards,
I'll be a home to your homeless heart.

9. Alone - Heart

You don't know how long I have wanted
To touch your lips and hold you tight
You don't know how long I have waited
And I was gonna tell you tonight
But the secret is still my own
And my love for you is still unknown
Alone

Till now I always got by on my own
I never really cared until I met you
And now it chills me to the bone
How do I get you alone
How do I get you alone

10. Every Little Part Of Me – Julie

I'm in this melancholy mood
That never does me any good
It gets worse when I'm tired
It's a habit I've acquired
Every little part of me
Is missing you now
Every little part of you
No matter where you are I do
This body aches to be kissing you now
Every little part of you
Deep down to the heart of you
And in the middle of the night
You should hear my spirit cry
Ohh - I - I'm still missing
Every little part of you

11. Everything – Lifehouse

You calm the storms
And you give me rest
You hold me in your hands
You won't let me fall
You steal my heart
And you take my breath away
Would you take me in
Would you take me deeper, now

And how can I stand here with you
And not be moved by you
Would you tell me how could it be
Any better than this

Hope you'll enjoy it.
And, by the way, I live for comments...