Let Me Entertain You! Dagger interview...
May 2nd, 2007 (04:23 pm)
What I'm hearing: Robbie Williams - Let Me Entertain You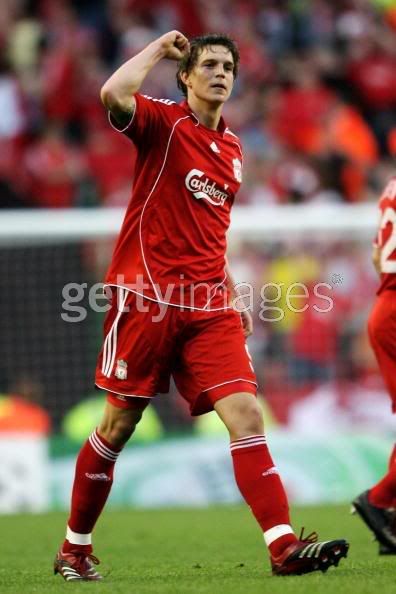 http://viastream.player.mtgnewmedia.se/inner.php?TvSkin=sport_dk&PKCatID=&PKVideoID=

>Click on the link
>There is an interview on the right side of the window, named: Daniel Agger d. 01/05-07


He looks awfully cute and smiley... :D

A rough translation

I: Daniel you look exhausted, must have been a rough night! How did you experience it?
Daniel: Yeah, like you said, a very rough night. A lot happens in the game, but luckily it ended well.
I: What went through your head, when you reached the extra time?
Daniel: This is gonna be tough... And it was! Like you could see on the guys, we were very tired, but we just kept going and kept believing in it. But it was obvious we were tired.
I: Back home, they were afriad the team would start loosing the concentration. As you said, you were very tired. How did you manage to not loose the concentration and keep going?
Daniel: Well, as you could say, it's why we are here. It's something we have to. We work on it in training every day. Concentration is crucial in football.
I: Was the 5th penalty yours?
Daniel: The 6th. If we got that far. I'm serious.
I: How's the last week been? Many of you didn't play last saturday, and people say that you have the advantage, because you didn't have to play the league match. How has the week, since the match on Stamford Bridge, been?
Daniel: Very ordinary. Apart from not playing last saturday. Speaking for myself, I was getting kinda' tired, so I think the break was good. But, on the other hand, I wouldn't have minded playing.
I: I don't know if you're aware of it, but we have been on your Center Pub. Did you know you're uncle has won 35.000 kr. because of you?*
Daniel: No, but it's the second time it happens!
I: And he is inviting you to the final.
Daniel: I would love to go there, really.
I: How does it feel being in the Champions League final?
Daniel: It's difficult to discribe with words. It's big. really big. Now we're going to celebrate it. But, I think I need some days to get used to the idea.
I: How was the reaction in the locker rooms?
Daniel: I don't think it's neccesary for me to decribe it. Everyone is happy, and we're flying high right now. We put some music on and started yelling and screaming!
I: We wish you and your team a great evening, and we'll see you in athens!
Daniel: We will.

* His uncle betted 1.000 that Danny would score the first goal in the game, which he did, and that gave the money back 35 times!